SET DESIGN / COSTUME DESIGN: YES!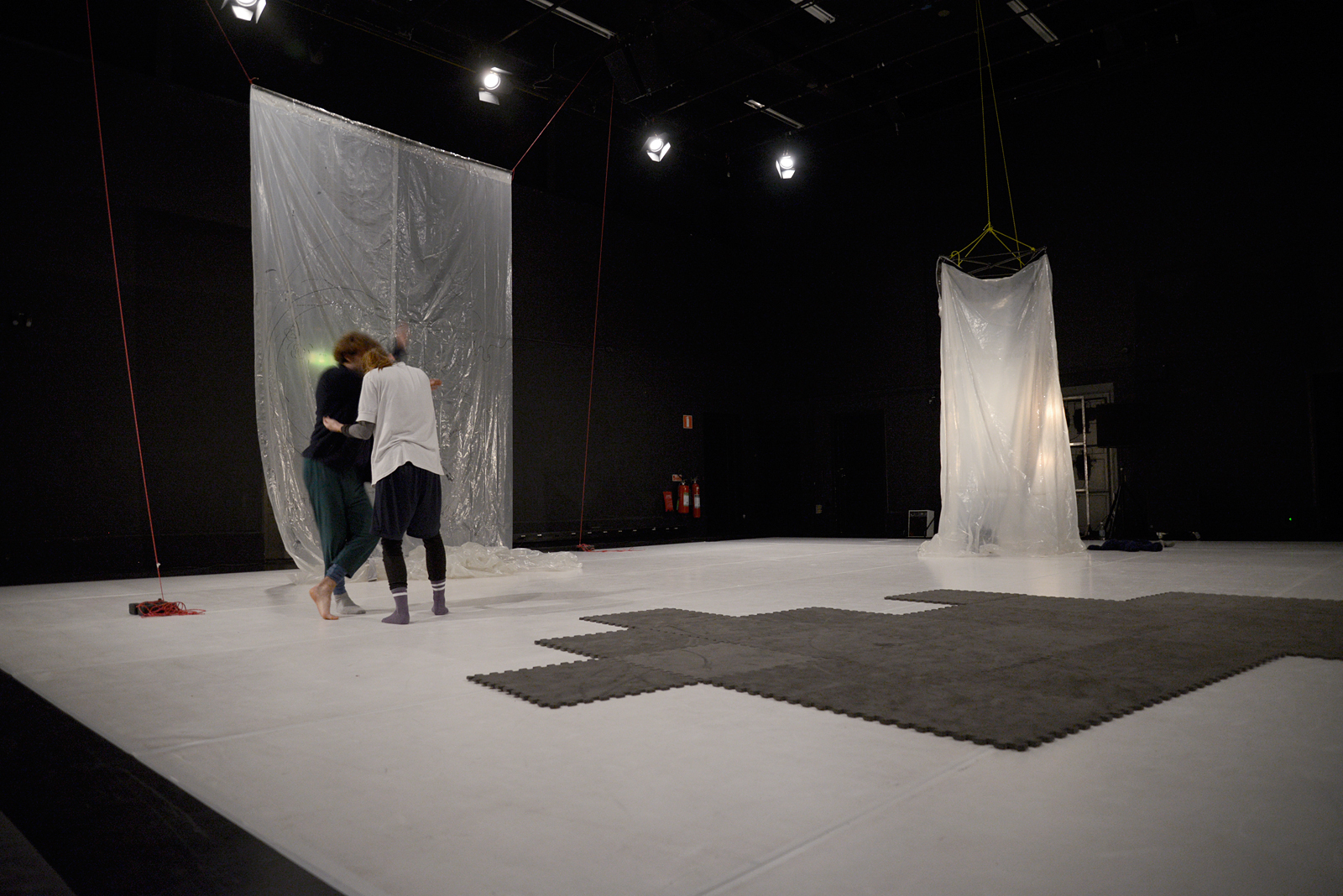 YES! by Mr. Rice & Peanuts
Inkonst, Malmö, 2016

Choreography & dance: Sanna Blennow, Robert Logrell
Room/costume: Karin Granstrand
Sound: Lendl Barcelos
Dramaturgy: Simone Weber
Performative and choreographic consultation: Ellinor Ljungkvist

Yes to everything when extra much would have more and the borders between fiction and reality are broken down by duo Mr. Rice & peanuts.

In a soft and intimate room choreographers Sanna Blennow and Robert Logrell are working to enter

YES! by Mr. Rice & Peanuts
Inkonst, Malmö, 2016

the hyper-presence full of power, strength and desires. Through

ceremonies, rituals and flying, bustling movements they search for a portal in to the focus and the presence where everything is aligned in the same direction and the body becomes larger than life.

YES! is a dance performance where movements that never end are interwoven with a wobbling hypnotic room that is trying to sweat itself out of an identity crisis. Give in, push away, stretch out and grab a hold before you get closer.
---
SET DESIGN / COSTUME DESIGN: TILLS DÖDEN SKILJER OSS ÅT
Tills döden skiljer oss åt
is Markus Virta's Swedish translation of
I love you, you're perfect, now change
.
We get to meet 23 different couples, and some singles, on their journey through all the milestones of life. The show takes off in a Darwinian description of the Christian creation story. Adam and Eve are brought back to life and tested on what it is like to live as a couple in our modern age.
But is it really so different to Eden's garden? Bridesmaids and bachelors, life-longed priests, and love-destroying retirees. For 2 hours, we get to meet fantastic characters who tearfully make comment on the family life and bitterly try to regain love.
Photo 2 & 5 by Andreas Paulsson.
ACTORS:
Lina Zerpe, Joel Zerpe, Magdalena Mononen Persson, Ingvar Silo, Ulrika Stafström Christmar, Jonas Bane, Felicia Nilsson, Jesper Olanders
STAGE TECHNICIANS
Stage manager: Alexander Svensson
Lighting design: Johanna Svensson
Sound design: Erik Bergman
Technicians: Marcus Thernström-Florin, Mattias Thernström-Florin
PRODUCTION TEAM
Director: Rasmus Mononen
Choreographer: Jonna Tideman
Mask: Freja Täck
Set design: Karin Granstrand
Assistand: Liv Olanders
---
CURATING / SET DESIGN: YNGVE LUNDELL
YNGVE LUNDELL: SKULPTUR
Malmöfestivalen, Malmö, 2017
The sculptor Yngve Lundell is best known for the popular public art piece "Optimistorkester" on Södergatan in Malmö. In the glass container at Barnlandet we now highlight some of his more unknown works of art in a wonderfully playful exhibition for both children and adults!

The exhibition at Barnlandet has been produced in collaboration with Yngve's children Jonas Lundell and Anette Svingstedt and the exhibition has been curated by Karin Granstrand.
---